Bucher Vaslin Equipment
Bucher Vaslin Authorised Dealership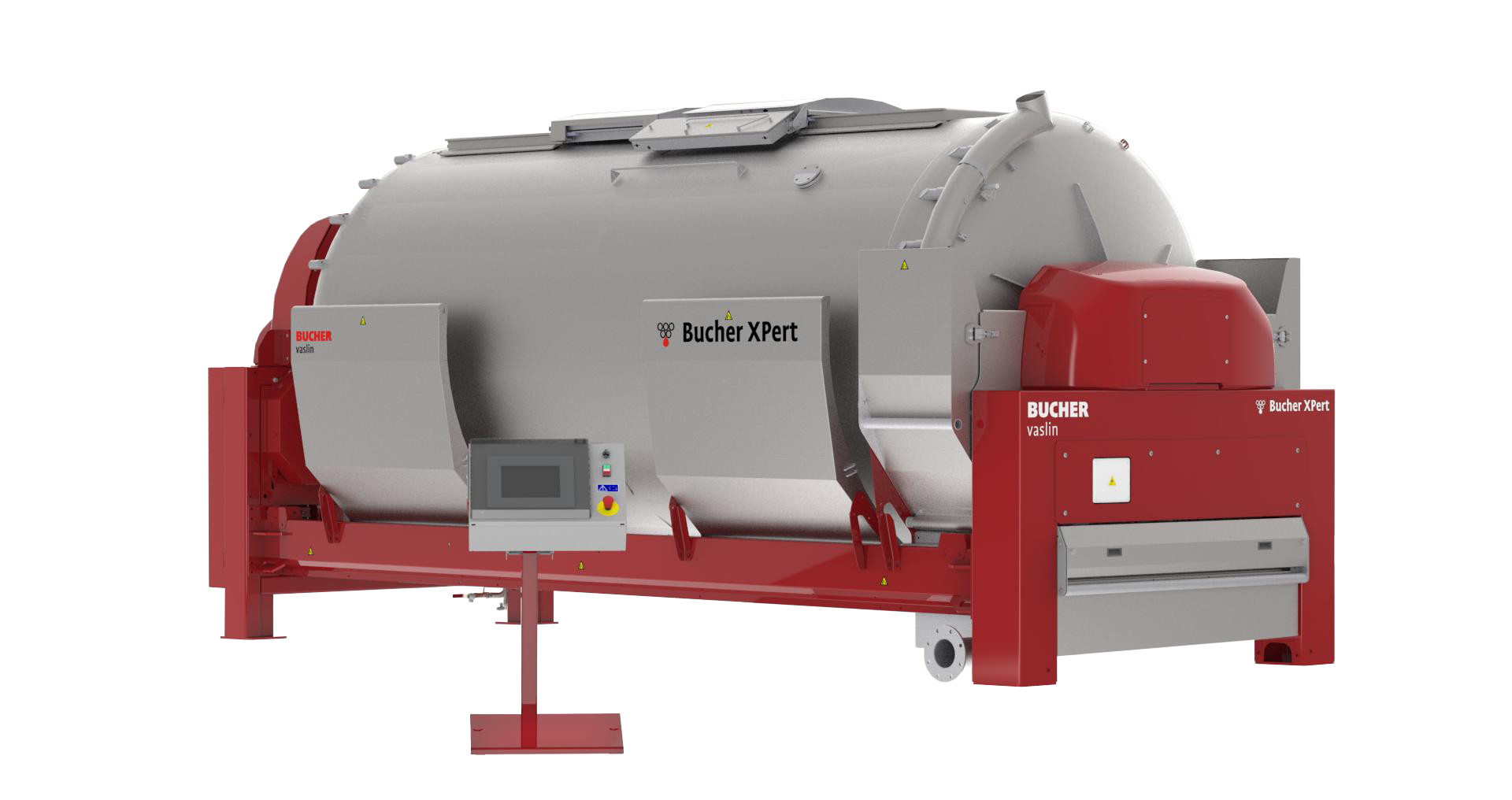 Bucher Vaslin
Equipment Range
Vinvicta Service is the authorised Bucher Vaslin dealership in Victoria, Tasmania and the Sunraysia region. From small presses to large we find a tailored solution to your winery needs. Have you got a project in mind?
Grape Presses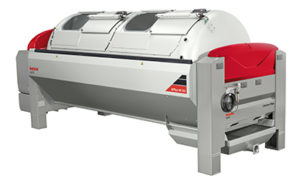 Bucher XPlusIT
Grape Destemmers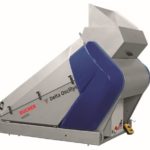 Delta Oscillys 200
Grape Sorting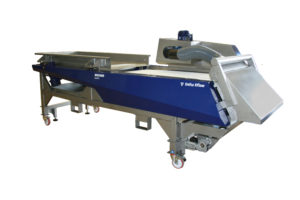 Delta Rflow
Wine Filtration

Cross-flow filters Flavy FX 2/3 ICS
Reception Equipment

Delta TR Elevator
Bucher Pneumatic Closed Tank Presses
From 5Hl to 750Hl
Includes the Xpro, Xplus IT and Xpert IT range
Available in 3 sizes 5, 12 and 20 Hl
Fully automated and super gentle pressing
Available in 23, 35 and 50Hl sizes
Complete stainless steel construction, with slotted screens
The number one destemmer for the ultimate gentle handling of fruit
Through put of 1.5t/h to 20t/h
Latest release in the Delta E series
Designed for fragile fruit but adaptable for all varieties
Flow rates of up to to 4t/h, gentle mode
From 2 t/h through to 100t/h
Covers all winery's needs
The FC1 and F20 are standalone crushers mounted either on trolleys or elevators
Throughput 5 to 25 t/h
The F2 and F4 crushers are matched to the Delta E2 and E4
Throughput 15 to 20 t/h
Delta FC 6,8 &10 models are matched to the Delta E6, E8 and E10 Destemmers
Throughput 50 to 100 t/h
Mechanical sorting though vibrating tables and high-speed belt and air blade
Flow rate of up to 15t/h
Removes vegetal residue (leaf stalk etc.) as well as shot berries, raisins, and split berries
Optical sorting up to 10t/h
Unmatched for consistent and accurate berry sorting by colour and shape
Eliminates all Mog
Flow rates of up to 6t/h (XS) 15t/h ( XM) 25t/h ( XL) 60t/h ( XXL)
Roller sorting to remove stem, petioles, leaf etc. post destemming
Patient design to adjust space between rollers
Can have Delta E2 (evolution), E4 and E6 destemmer mounted above
From 1.5 meters to 3.5 meters long and flow rates from 3t/h to 25t/h
With options of multiple grids, interchangeable grids and grid spacing the Delta TRV gives great separation for juice, small unwanted matter and the ability to effectively hand sort.
The Flavy Range
The FX ICS 2/3 and Flavy X-Wine 4-10 for still wine
Flow rates from 2400 l/h (FX2), 3600 l/h (FX3), 4800 l/h (X-Wine4), 7200 l/h (X- Wine 6),  9600l/h (X-Wine 8), 12000 l/h (X- Wine 10) on white wines.
Flow rates from 1000 l/h (FX2), 1500 l/h (FX3), 2000 l/h (X-Wine4), 3000 l/h (X- Wine 6),  8000l/h (X-Wine 8), 10000 l/h (X- Wine 10) on red wines with no enzyme treatment.
Respecting the organoleptic structure and quality of your wine with a single pass (body, character, length, etc.). The filtered wine is typically brilliant (<0.3 NTU).
Features:
Minimal temperature increase
Decreased oxidation (operations carried out with inert gas leading to minimal DO pickup) & retention of CO2
Preservation of colour
Reduced wine loss (average .05%),  low dead-end volumes
Maintenance of good flow rates through gentle, pressure controlled filtering and back washing
Significant reduction of operational cost through limited labour cost
Low water usage for cleaning, very low power consumption
Options: Many additional options available to optimise your filter for your production requirements.
Please enquire to find out more.
The FX ICS 2/3 and Flavy X-Treme 4-10 for Juice Lees
There is also the additional option of lees filtration available. This option allows up to 90% of normally discarded cold settled – Juice lees volumes to be used which will retain their integrity in aroma and freshness.
Flow rates from 500 l/h (FX2), 750 l/h (FX3), 1000 l/h (X-Treme4), 1500 l/h (X- Treme 6),  2000 l/h (X-Wine 8), 2500 l/h (X- Treme 10) on Juice lees.
Designed to filter high solid content such as fining lees, retenate from Xflow filters and centrifuge sludge
Rocovery rate of up 96% on production containing 45% of VSS
Please enquire to find out more.
Reverse osmosis units with flow rates from 200-1200 l/h depending on model.
Applications of:
Concentration of grape must
Wine concentration
Reduction of sugar content in must
Reduction of ethylphenols in wine
Delta AEV range of Vibrating hoppers
Capacity from 3000l to 150,000l
Efficient draining into large juice tray
Pneumatic door, safe and easy to use
Belt width from 300- 600mm available
Available from 2.5 to 8m in length
Stainless steel construction
Variable speed drive as standard
Quick release of belt for easy cleaning
Many hopper designs to suit your specific needs
3 to 100t/h- depending on model
Ultrasonic level sensor for smooth operation and piece of mind
Variable speed drive
Smooth transfer of grapes
The Delta DP pump is a peristaltic pump with two functions: pump for fresh grapes and wine

Liquid flow of 1.5 to 35 m³/h

Variable speed drive
Wireless remote
Barrel filling option
Vinvicta Services offer annual maintenance and breakdown support for all your equipment.
Programmed maintenance schedule and quick response with breakdown support.
A team of experienced technicians specialising in electrical and mechanical installation and service and breakdown requirements.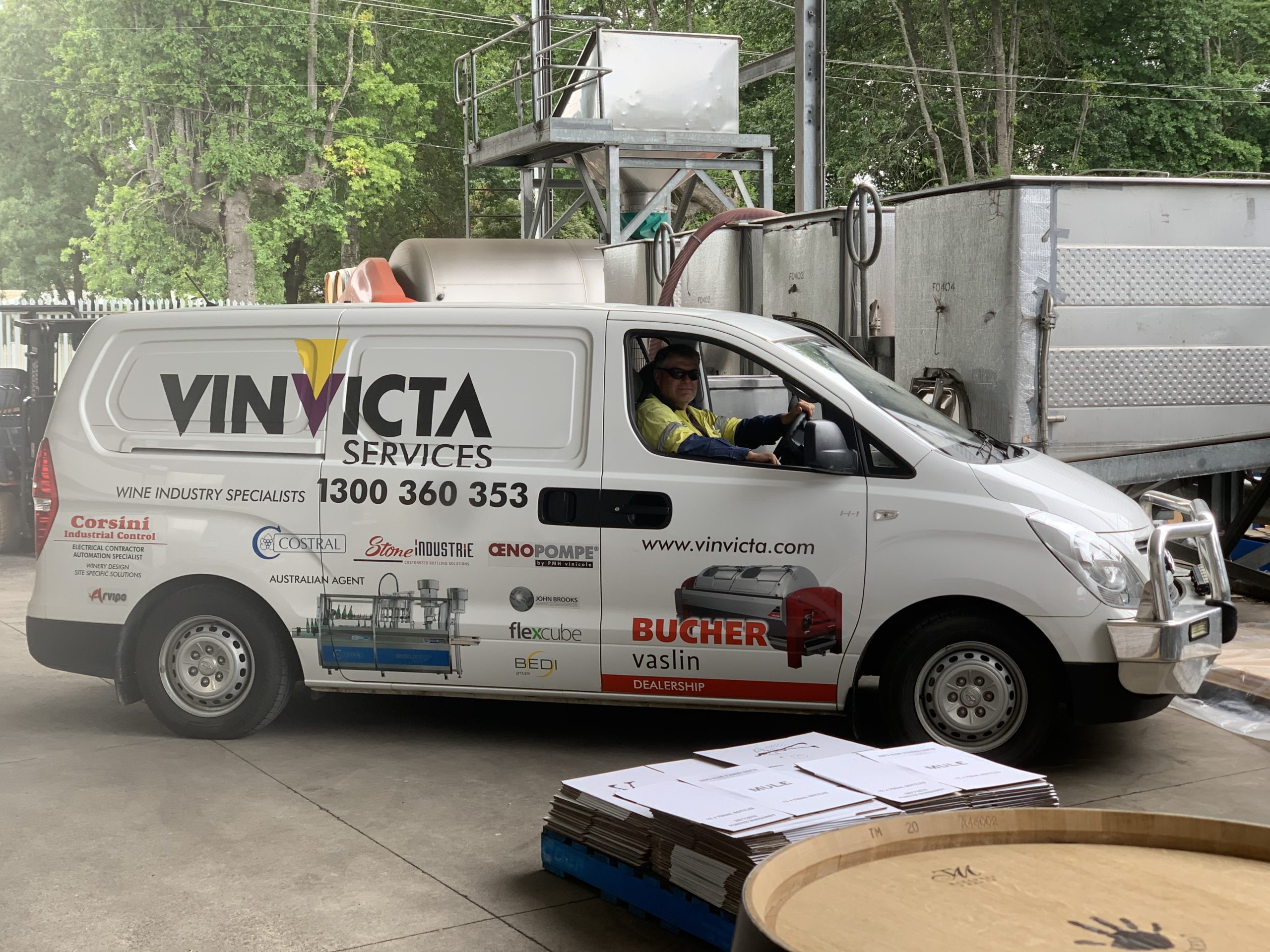 "We wanted to learn as much as we could about the equipment. Vinvicta were onboard right through the process for the first week and any other time we would need them." Peter Dillon, Senior Winemaker, Handpicked Wines, Mornington Peninsula.
Want to Trade-In Or Sell Your Used Equipment?
We offer trade-ins for used winery equipment on most models.